Tips For Your Email Newsletter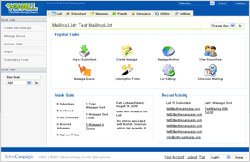 Email marketing is a form of direct marketing that uses email as a communicating message to an audience. Every email sent to a potential customer could be considered email marketing.
This is a smart way to get people to think of you first when they are ready to buy. But, you have to do it in a right way. It means that your email is a legitimate marketing email, not a spam. You need to understand the difference between spam and not. Spam is when you didn't ask for the email, you don't know the sender, the subject line is misleading, and not relevance to the content, and there is no way to get the sender to stop sending you the email.
These are some tips for your email newsletter:
Make your time effective by organizing your newsletter content folder on your PC.
Learn about your reader interests, using reports on how many people opened your email or clicked on a link.
Monitor your competitor's newsletter to get you more ideas.
Use the search engines to find relevant themes and topics about your business, products, and services.
Find partners of other newsletters or businesses who are not your direct competitors.
Always encourage your reader to give feedback.
Reduce the frequency or length to avoid your readers lose their interest.