Polar Theme (Color Lover 1.03) For WordPress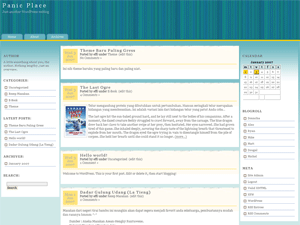 live demo | [download#101]
My 4th theme for WordPress, inspired from Happy Feet Movie, is available to download for free. The theme has cool colors: light orange and ice blue. I am planning to create another colors, that's why I called this theme Color Lover.
INSTALLATION:
Unzip file to a local folder.
Make any changes you need to.
FTP to the "themes" folder of your WordPress.
In your WordPress admin, under "Presentation," activate theme.
Download Plugin Clean Archives Reloaded. Place to the "plugins" folder of your WordPress, and activate it.
Create Archives page. How to do: Go to Write Page, Type "Archives" in Page Title, and in the Page Template, choose "Archives". Remember to inactive the "Allow Comments".