Gravity Forms Coupon Code Discount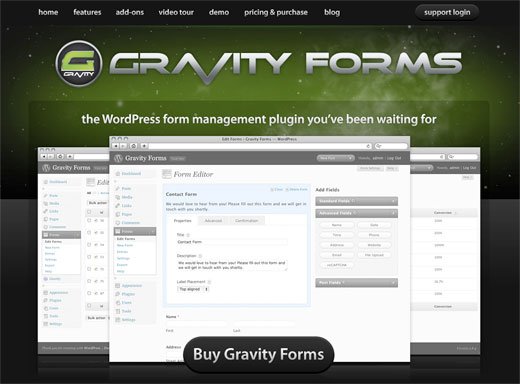 If you are looking for form management plugin for WordPress, you will love Gravity Forms. I use it in all my website now, and it's amazing. Example of using this form is in here, Submit Themes and Contact page. I wish I use this plugin long time ago. The price is worth it.
You can get special discount using this coupon code:
GFDEV50 – Save $50 for Gravity Forms Developer License.
SEODENVER – Save 20% for Gravity Forms All License.
You want more discount? Type this multi discount code to discount code section and update your shopping cart.
GFDEV50 and SEODENVER – Save 79.80$ discount for Gravity Forms Developer Version.
Here are some features of Gravity Forms:
Version 1.3.13 introduces new inline HTML content blocks for your forms. Include textual content, imagery, scripts or whatever you would like to enhance your forms.
Import/export form functionality has been added in version 1.3.13. Now you can build your forms, export them as backups or import them to use on other sites.
We have added an option to the email notifications to disable auto-formatting of paragraphs. This option gives you complete control of the email formatting using HTML.
We've enhanced the post custom fields to let you choose from various field types. Custom fields can now be email, website, multiple choice, drop down lists, hidden fields and more.
Running a contest and only want the first 50 people to be able to submit an entry? Now you can limit the number of entries a form can receive.
Gravity Forms is compatible with Justin Tadlock's Members plugin for role management. Have granular control over what users can and can't do within Gravity Forms.
Gravity Forms makes it easy for users to upload an image when creating a post via a user submitted form. Great for user submitted articles, directory sites, etc.
Gravity Forms now makes it easy for users to select the post category when creating a post via a user submitted form. You have complete control of which categories are available.
Send automatic emails to users in response to a submission. Add any form field content to your message to create professional and personalized messages.
Let your users help with data entry. When added to a form, our Post Fields create a post when the form is submitted. Great for user submitted stories, job postings, directories, etc.
Need your entry data for other applications? Easily export all or part of your entries to CSV. Our export tool makes it a breeze to export only the fields that are needed.
Their support is amazing, too. This is very important thing to consider before you decide to buy something.